Don't panic! Sit tight, and stay right where you are knowing that a mobile locksmith in Colorado Springs area is on the way to help get you out of your locks or keys emergency situation.
What Is A Mobile Locksmith?
Let's face it! When you need a locksmith in a hurry, it's probably not at a convenient time or even a convenient location. You need help, and you need help fast! Mobile locksmiths are just as the name implies. They are locksmiths who are mobile as opposed to one who is on location, on staff, or requires appointments at their location to help. A mobile locksmith is a trained and ready professional locksmith who is equipped and ready to come to your location when you have a lock or key need and cannot spend time making an appointment to meet with a locksmith at the locksmith's office.
Another benefit to a mobile locksmith in Colorado Springs is that they know the area, so they will easily be able to find your location when you call. We are local and will never send technicians out from a national call center who may or may not understand the locale.
Mobile locksmiths are nearby and ready to come to you when you need them, so you know that help will arrive in 30 minutes or less, anytime day or not and even on holidays.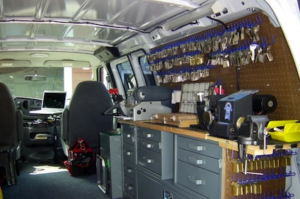 When you are locked out of your car or home, broken a key off in the ignition, lost your keys, need a re-keying service, or are stranded roadside, or need transponder keys programmed or car keys made on the spot, we come to you in and around the Colorado Springs area. We take the panic out of emergencies. Lock and key emergencies require the services of someone who can work on the lock, which means that even if it's not an emergency situation, it would be very awkward and inconvenient to dismantle a door with a lock intact or get the vehicle to another location for service. That's why mobile locksmiths come to you to provide the service you need right there on the spot.
Our Mobile locksmith in Colorado Springs is available 24 hours to come to you when you need a professional service. We provide:
Affordable unlocking services

Fast keys made on the spot

Quick lock changes

Fast locks re-key services

And more
Our professional locksmiths are on call anytime you need us, 24/7. Our staff of trusted locksmiths are dependable and affordable. We strive to build our business on trust and excellence. We provide our customers with fast, friendly service and trustworthy pricing upfront with no hidden costs.
Colorado Springs Locksmith send our mobile locksmiths to you fully stocked with the tools and fully trained with the know-how they need to get your job done fast and right the first time.
It's time to call the best mobile locksmith in Colorado Springs. Call and discuss your locksmith needs now before you are in an emergency situation. Then, when you do find yourself in need of a mobile locksmith in Colorado Springs, you will know who to call.